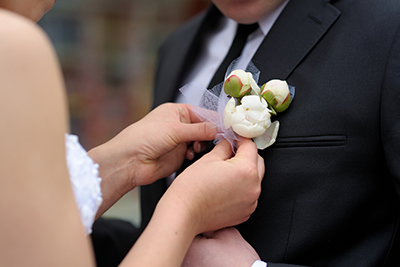 Bussey's Wedding Flowers
We Create Stunning Boutonnieres
Boutonnieres – Bussey's will make sure the gentlemen are well turned out with our unique boutonnieres. From forma to funky, our creative team will craft the perfect compliment to your bouquet.
Bussey's Florist has been voted "Best Florist" in Rome and Cedartown. We employ an award winning team of wedding and event floral designers. They create unique, luxurious, upscale wedding bouquets and boutonnieres. The bridal bouquets we design come in a number of different styles. We offer the ultra popular custom hand-tied designs. Their popularity has been growing for a number of years. These custom hand-tied bouquets are absolutely gorgeous. Brides choose the exact flowers and color theme and our design team does the rest. We create the boutonnieres to perfectly match the design style of the brides bouquet.
Boutonnieres are an important part of the wedding flower package. They are big focal point. When you come in for your wedding consultation, we will talk through the exact bouquet style, flowers and color scheme that you want. Once the bouquet details are in place, we will mirror the design of the boutonnieres after the design of your bouquet. The boutonnieres we create will be beautiful and compliment the bouquet and overall wedding flower package.
View Images Of Wedding Boutonnieres
Request A Free Consultation
Step 1 – Select your category (wedding / corporate event) Step 2 – Select your service (wedding consultation / corporate event consultation) Step 3 – Select the employee you would like to meet with (Any) Step 4 – Click the button at the bottom right of the form marked (Next). That will open our scheduling calendar, allowing you to pick your date and time.
[bookly-form]